Ninja Theory will keep releasing information periodically on Hellblade's website, in the form of Developer Diaries, which will be posted here accordingly so we don't lose track. Here's their third Dev Diary, where they share with us how they're shaping Hellblade's protagonist, Senua.
Development Diary 3: Senua
Posted at hellblade.com on 15 Sep 2014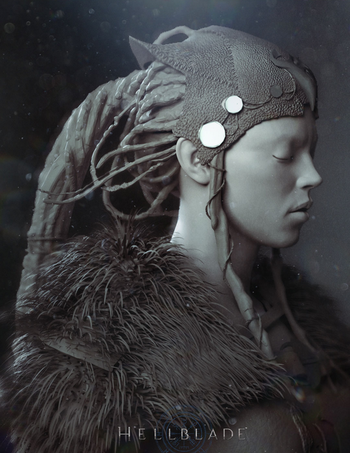 The 3rd installment of Ninja Theory's Dev Diary series focuses on Hellblade's protagonist, Senua. In this video they show her journey from original concept through to her look in the final teaser trailer:
As with most game characters, Senua's model will probably evolve throughout the course of the project. However, Ninja Theory seems to be very happy with the response they've had to her design so far. Here are some of Senua's hi-res renders created by the studio's Senior Character Artist, Claire Blustin:
Ad blocker interference detected!
Wikia is a free-to-use site that makes money from advertising. We have a modified experience for viewers using ad blockers

Wikia is not accessible if you've made further modifications. Remove the custom ad blocker rule(s) and the page will load as expected.